Activities
Informal
Related Topics
Active Training Series
Web Courseworks
SEPTEMBER 3, 2015
Dr. Andy Hicken and I are contributing authors in  101 Ways to Make Learning Active Beyond the Classroom , a new e-learning book by my friend and colleague, Elaine Biech. The book's front half lists 200 tips for "making training active and learning successful." Active Training. The post Active Training Series appeared first on Web Courseworks. 10 Tips.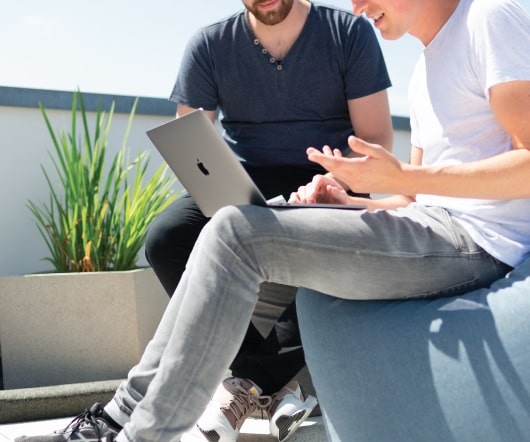 Active and Passive Learning in Organizations
The Peformance Improvement
APRIL 13, 2012
Employees are asked to read, watch, or listen to information being dispensed. Another approach is to make the learner an active creator of knowledge and skills. Internal job aids  (to support use of systems, processes and activities). Coaching Organizational Learning Training active learning Jane Hart learning organizational learning
Active learning spaces
Learning with e's
APRIL 8, 2013
The boundaries of informal and formal spaces have blurred significantly, as have the boundaries between the real and the virtual. It is also important that learning is made to be active and engaging. All of these aspects of learning are active. It is not hard to see how such an artificial transition from active to passive can stifle creativity and demotivate learners.
Active learning principles: tips to apply in online training
LearnUpon
JUNE 28, 2016
Are you looking for a way to turn corporate learners into active participants? If so, then active learning may be the ideal strategy for your online training program. In this article, Christopher Pappas shares active learning principles and related activities that you can integrate into online training course design. Active learning online training activities.
Seven Simple Secrets to Off-the-Shelf Course Success
Advertisement
activity to 50 new hires, 2) Promote and support new managers to lead teams, 3) Improve. For example, to support objective 1— standardize and ramp up hiring activity to 50 new hires – you might use courses such as. Performance support is the extra bits of information or reminders that extend the training. Seven Simple Secrets to. Off-the-Shelf Course Success. capital. You're.
Course
3 Essential Activities for New Hire Success – Even if You Don't Have Formal Onboarding
Pract.us
SEPTEMBER 27, 2016
Bonus activities. After a couple weeks, ask your new employee how the onboarding process is going, and use that information to make improvements going forward. Onboarding is key – even if you don't do onboarding. According to a recent article by Human Resource Executive Online , only 48% of companies offer onboarding for new employees. Ignore onboarding at your own risk.
Disruptive activism
Learning with e's
JANUARY 2, 2011
But just what is disruptive activism? The multiple affordance of digital media to be able to see instant results, record, delete, share and edit images on the move, and the ability to extract a great deal of information about camera source, geographical location and other useful information, are all attractions the conventional camera cannot compete with. Unported License.
Innovation is a network activity
Learning and Working on the Web
NOVEMBER 11, 2014
You can show that this is the kind of thing you'd expect if societies are like brains in the sense that they store information as a group and that when someone learns, they're learning from the most successful member, and that information is being passed from different communities, and the larger the population, the more different minds you have working on the problem. Innovation
Fundamental Design of Learning Activities
Aaron Silvers
FEBRUARY 23, 2011
Design Thinking offers a set of tools to make sense of "wicked problems" and mysteries, and in this post I attempt to narrate my ideational journey in making sense of learning by digital means, the concept that I call learning experiences, and a notional (but far from complete) model for learning activities designed for individuals to experience. What Are Activities? Combat-Readiness.
Quality Control process for E-Learning
Advertisement
It consists of activities that occur before and during the production. It consists of activities that occur before and during the production. Then determine what activities will influence that metric and how. strategies to control the flow of information. developer can move forward with the information as needed. In those cases, we use active writing.
Clipart