Enterprise
Knowledge Management
Knowledge Worker
Related Topics
Knowledge Management for Decision Memories
Learning and Working on the Web
AUGUST 5, 2013
As Brian Gongol notes: If a capital project has an expected service life of 20 to 30 years, it's entirely possible that people working in an institution in their 20s will be middle or upper-level managers in the same institution by the time the project has to be replaced or upgraded. An Organizational Knowledge Sharing Framework. But we never know this in advance.
Knowledge Management in the age of Social Media
The Learning Generalist
MARCH 21, 2011
Coming back to our social business platform though, the primary driver for this initiative was to answer a long standing knowledge management challenge at ThoughtWorks. How does the traditional world view of knowledge management fit in the world of social business? The key is to give people a way to personalise their knowledge intake in a way that suits them.
Sahana Chattopadhyay – Crystal Balling with Learnnovators
Learnnovators
AUGUST 19, 2015
Her work with various companies like Tata Interactive Systems, Zensar Technologies, ThoughtWorks and Future Group has given her a width of experience that spans instructional design, workplace learning strategy, knowledge management, social learning and community management, and people development. Sahana: A community manager's task is varied. and others. Idealistic?
Social Learning, Complexity and the Enterprise
Learning and Working on the Web
APRIL 20, 2011
Corporations that understand the value of knowledge sharing, teamwork, informal learning and joint problem solving are investing heavily in collaboration technology and are reaping the early rewards. ~ Jay Cross. Why is social learning important for today's enterprise? Our relationship with knowledge is changing as our work becomes more intangible and complex. Social learning.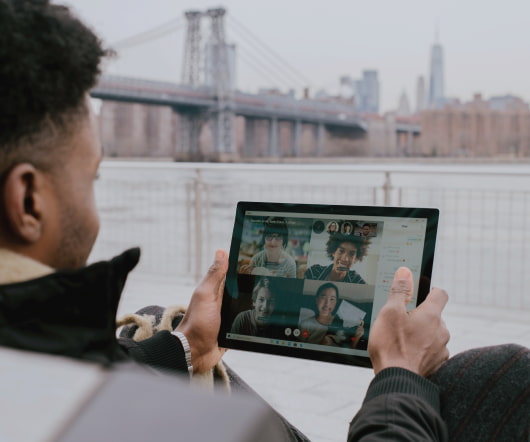 Collaboration First, Then Knowledge Management (by Matthew Clapp)
ZaidLearn
JULY 18, 2007
Link to article "The goals of collaboration should first be to allow knowledge workers to labor together to complete projects and only then to collect that knowledge to be leveraged for the rest of the enterprise. Take this feedback and incorporate into your business case and subsequent requirements documentation if you go for an enterprise solution. Measure your success both in terms of the effectiveness by which people complete projects, as well as their ability to share and leverage knowledge." Papers
Three Principles for Net Work
Learning and Working on the Web
APRIL 15, 2012
For knowledge workers, there is diminishing value in standardized work, as it will be either automated or outsourced over time. Standardized work usually falls into simple or complicated knowledge domains. Look at a knowledge worker and how things can get done in an interconnected enterprise. Work is changing. Known Problems and Exceptions. It is now known.
The Seek > Sense > Share Framework
Learning and Working on the Web
FEBRUARY 10, 2014
Simple standards facilitated with a light touch, enables knowledge workers to capture, interpret and share their knowledge. Personal knowledge management is a set of processes, individually constructed, to help each of us make sense of our world and work more effectively. We cannot become complacent with knowledge and just store it away. Working Out Loud.
Demystifying Working Out Loud
Learnnovators
NOVEMBER 9, 2015
process to be mandated by management/supervisors/organizations with defined rules. I'm going to take a step back and examine the world we live in today and how the notion of work has changed. The 9:00 am to 5:00 pm notion of work is all but vanishing, at least for the knowledge workers. The baby boomers are retiring taking their tacit knowledge and experience with them.
PKM is making sense of complexity
Learning and Working on the Web
DECEMBER 15, 2013
This is what you find on the first page of most searches for PKM : Personal knowledge management (PKM) is a collection of processes that a person uses to gather, classify, store, search, retrieve, and share knowledge in his or her daily activities – Wikipedia. We each need to find others who are sharing their knowledge flow and in turn contribute our own. agree.