Examples
PowerPoint
Related Topics
30+ Ideas for eLearning Portfolio Samples
Experiencing eLearning
JULY 14, 2016
What if you can't use any samples of your existing work due to confidentiality or security requirements? For example, the Instructional Designer or eLearning Developer demo in my portfolio is based on an activity I originally created for a health care client. For portfolio samples, you don't generally need to create a full-blown, 60 minute course. Resume writing.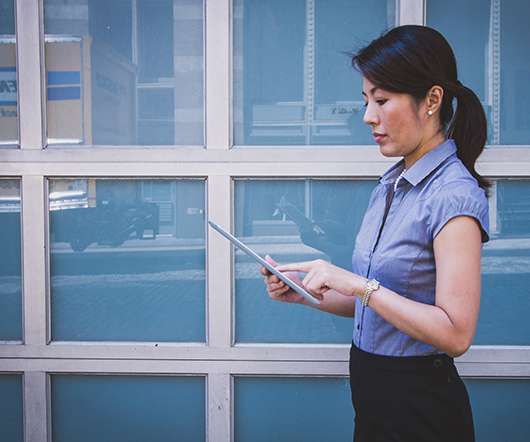 PowerPoint: Create an Infographic
I Came, I Saw, I Learned
SEPTEMBER 29, 2012
by AJ George  If you need to create an Infographic, there are better programs than PowerPoint that you could use. That being said, PowerPoint is likely on your office computer right now. Additionally, PowerPoint is often underutilized as a design platform and is surprisingly agile. In PowerPoint, choose  File > Save As.   eLearning PowerPoint
eLearning & PowerPoint: A Great FREE Resource
I Came, I Saw, I Learned
OCTOBER 7, 2011
Not only can you take a look at some comic examples and download a pretty nice selection of characters and scenes, BUT, it's all free. About the author: AJ George is IconLogic's lead Technical Communicator and author of both " PowerPoint 2007: The Essentials " and " PowerPoint 2008 for the Macintosh: The Essentials." But, behold: Design Comics.
How to Create eLearning Using PowerPoint
Association eLearning
APRIL 24, 2014
Having a solid foundation in PowerPoint is a must when using rapid content authoring tools to create online learning. Many rapid content authoring tools are either based on or an add-on to PowerPoint (PPT), including: Adobe Captivate,  Articulate Presenter, iSpring Presenter, Articulate Presenter, Articulate Storyline, as well as Digitec's own Direct-to-WEB. Example. Don't.
How to Customize Illustrations in PowerPoint
Rapid eLearning
APRIL 26, 2016
In this post we'll look at an easy way to customize illustration in PowerPoint, since it's a tool most of us have and it's easy to do. Finding the Right Illustrations in PowerPoint & E-Learning. For example, in the images above, the backgrounds would be perfect for elearning scenarios. How to Edit Vector Illustrations in PowerPoint. EPS or.AI
PowerPoint or Prezi: Which is Best for eLearning?
Association eLearning
NOVEMBER 4, 2014
The question is becoming more and more common — "Should I use PowerPoint (PPT) or Prezi?" But whereas PowerPoint tends to progress linearly from one slide to the next in a fixed sequence, Prezi uses "paths" to move between content by zooming out to reveal a big-picture overview, or zooming in to show details. What do we want to use the program for?". Read on to see why.
PowerPoint 2010: Paste Linking
I Came, I Saw, I Learned
FEBRUARY 14, 2011
Recently I was asked if it was possible to paste link an image into PowerPoint so that if the original image is ever updated, the image in PowerPoint would automatically reflect the change. Sadly, PowerPoint cannot do this, but there are some types of source files that can be Paste linked. In that case, the content in the PowerPoint slide will automatically update.
PowerPoint: My New Favorite (Free!) Video Converter
I Came, I Saw, I Learned
MARCH 2, 2011
  I have written a few articles on how to get online videos (like YouTube) into PowerPoint presentations (links below).   PowerPoint 2007 (with internet).    PowerPoint 2007 (without internet).   PowerPoint 2008 for the Mac.   PowerPoint 2010. " PowerPointby AJ George.  The service was also very basic.
Free PowerPoint Template: Conversation Interaction
Rapid eLearning
JULY 21, 2015
Here's a free PowerPoint template I built for a recent workshop. used it to show how to create interactive conversations in PowerPoint using hyperlinks. In this example it's a simple back and forth conversation. Below is an example of the template in action. How to Edit the Free PowerPoint Template. Download the free PowerPoint template here.