IBM
Study
Related Topics
What Instructional Designers can learn from IBM's Watson
Kapp Notes
FEBRUARY 17, 2011
By now you have heard about IBM's super computer, Watson is a modern day wizard answering questions that seemed impossible for a computer to answer only a short while ago. For the letter A example, the IBM research team fed the computer thousands of examples of the letter A so the computer could "recognize the pattern, general shape and construct of a letter A. Examples.
eLearning Modules will Die… and 70:20:10 will hold the Smoking Gun
Learnnovators
FEBRUARY 9, 2016
Done right, formal learning can add tremendous amounts to a blend, including: Priming mindset and/or directing focus of learners; Introducing high level core concepts or frameworks (possibly through case studies or worked examples); and. When talking about technology and learning it's hard not to think about elearning modules. Anyway, lets start our investigation with the unassuming victim.
Succession Management at IBM, Contrasted with Apple and HP
Learning on the Leading Edge
OCTOBER 26, 2011
Today Ginni Rometty was announced as the new CEO of IBM, marking a significant transition at IBM and celebrating the company's first female top executive. It was predictable (IBM CEO's leave their jobs at the age of 60) and shows the results of years of development planning. Investors, customers, and IBM employees will see this as a well-planned, safe transition.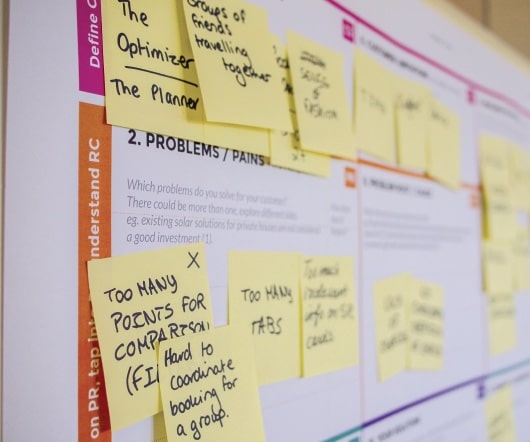 IBM Launches New Skills Programs
CLO Magazine
DECEMBER 6, 2012
The new resources will aim to help reduce a critical technology skills gap outlined in IBM's 2012 Tech Trends Report released Wednesday. — Dec. 5 IBM has announced an array of programs and resources to help students and IT professionals develop new technology skills and prepare for jobs of the future. The new resources will aim to help reduce a critical technology skills gap outlined in IBM's 2012 Tech Trends Report released Wednesday. Professors can also download IBM mobile development software to give students hands-on experience. Source: IBM
Autonomy and Value in Social and Workplace Learning
Performance Learning Productivity
JANUARY 23, 2015
Harold Jarche has written extensively about the merging of work and learning. I see the 70:20:10 model as reflecting, to some extent, IBM's model. My colleague Jane Hart recently shared the diagram below on her blog. It shows the relationship between relative value and relative autonomy as they relate to different approaches to learning in the modern workplace. itashare
The Promise of Computer-Based Instruction
Enspire Learning
JULY 6, 2011
Sure, IBM's Watson computer is the Jeopardy champion; but, there's a lot more logic required for an adaptive learning application. Testing companies spend millions annually on item validation and reliability studies. I've been dreaming about the true promise of computer-based instruction since my days as a program coordinator for adult literacy services. Why aren't we there yet?
6 Mobile Learning Trends That Grew in 2012
Bottom-Line Performance
SEPTEMBER 25, 2012
study funded by the Department of Education showed vocabulary improvement by up to 31% in Title I elementary school students after just two weeks of using a particular educational gaming app. IBM was one of the first companies to implement this policy, and so far the results have been, well, nightmare-ish. mLearning in the classroom…and in the workplace. The best part? soon. 5.
Immersive Learning – A Decade Later
Enspire Learning
OCTOBER 19, 2011
The program combined simulations, team projects, and individual study and personal planning. For many of the target learners – public assistance recipients, teen parents, unemployed and underemployed workers – the notion of employment in high-tech companies like Dell, IBM, Motorola, National Instruments, Samsung, and Texas Instruments seemed an improbable – nay impossible – idea.
Start with the 70. Plan for the 100.
Performance Learning Productivity
DECEMBER 6, 2015
12 page bibliography with a wealth of references to supporting papers, books, articles, case studies and other material. This aligns with the model developed by IBM Consulting Services some years ago (see below) developed to explain the evolution of learning and increased value of on-demand services aligned with current and future business needs. The other 92 provide solutions. 2015).