Leadership
Research
Related Topics
70-20-10: Origin, Research, Purpose
Performance Learning Productivity
AUGUST 13, 2016
Learning through Conversation – April 2016 Cal Wick, Bob Eichinger, Charles Jennings 70-20-10: Origin,Research, Purpose by Cal Wick Where It All Began The 70-20-10 model has been part of the corporate learning and development lexicon for decades. last group discounts it claiming 70-20-10 has no research to back it up and that it provides little value because the numbers are not accurate.
What Does Effective Leadership Mean?
CLO Magazine
SEPTEMBER 14, 2016
But the "street view" of leadership may reveal some entirely different ideas about what does and does not work. To get a street view, we studied the written comments on our Leadership Circle Profile 360. An independent research firm sorted our LCP 360 database of 100,000 leaders into two groups, the most creative leaders and the most reactive leaders. Visionary. Team builder.
Accelerate Female Leadership Development
CLO Magazine
AUGUST 4, 2016
She was studying in Italy for her MBA, interviewing a female executive for a research project. "I was about to say, 'Thank you and goodbye.' There have been so many studies that show empowering women and putting more women in leadership positions isn't just the right or the nice thing to do. At this moment, there is a place for just women-only leadership programs. Sharing.
There's an Alternative to Leadership Development
CLO Magazine
JULY 6, 2016
Worse, most leadership development programs turn out to be ineffective and expensive. These programs provide little focus on the social, interpersonal and strategic aspects of leadership, and what's learned is often difficult to apply. Details from "Action Learning and Leadership Development," a research study on how action learning develops leaders were published in April.
Microlearning Whitepaper: Small Bites, Big Impact
Advertisement
Research has proven that retrieval practice produces superior learning over conventional studying such as cramming, repeated studying, concept mapping and other study methods. associates' ownership and engagement in our safety programs, as well as leadership. Spacing Learning Events Over Time: What the Research Says. Microlearning: Small Bites, Big Impact. About Axonify.14
Behavior
Social leadership
Learning and Working on the Web
JUNE 11, 2014
What is social leadership? The great fallacy of leadership is that leaders control. The teacher asked the researcher, "There isn't going to be any lawsuit from this medical facility, right?" Social leadership focuses on building better work structures. Leadership Simply put, it's shifting the focus from you to we. Control is a mirage. Vulnerability. Balance.
Leadership for the Network Era
Learning and Working on the Web
DECEMBER 29, 2014
Power and Leadership. Each type of societal structure has required different types of leadership. Niels Pflaeging states that, " All organizations know three kinds of power, and two forms of leadership " Hierarchy is necessary for (and only for!) As formal power, It is not a form of leadership – but of management. It is a form of leadership.
Ethical Leadership and Organizational Success
The Peformance Improvement
JUNE 14, 2012
Dov Seidman argues that principled leadership is a determining factor in developing and sustaining a successful organization. Companies in the first group, called "blind obedience," rely on coercion, formal authority, policing, and top-down command-and-control leadership. Leadership Organization Culture Art Kleiner Dov Seidman ethics how leadership self-governance
6 Strategies for Successful Digital Leadership Development
ATD Learning Technologies
JULY 6, 2016
Six Strategies for Digital Learning Success , a recent whitepaper from the Center for Creative Leadership, explores tactics organizations can use to make digital leadership development more successful. Initiatives may also want to focus on one leadership topic a month, or one topic a quarter. That's the good news. Downs, senior evaluation faculty member at CCL. " 2.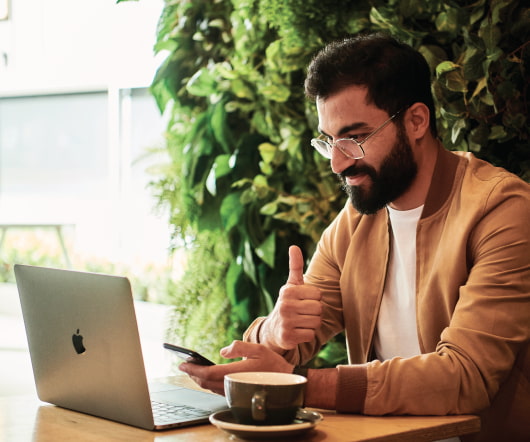 Ditching the formal performance review? Kineo shares 3 Elements for Success
Advertisement
strong voice and leadership from the top to make it. Research found that today's workers don't see. According to the Leadership. To gain buy-in to your leadership. them to build leadership capabilities. global leadership program for frontline. never had formal leadership training. The 18 month blended leadership. basics of Coats' leadership framework. tools they need to succeed by building leadership. to eight core leadership competencies. an instructor, and keep the leadership. From Performance Management.
Performance Support