Social Media
Related Topics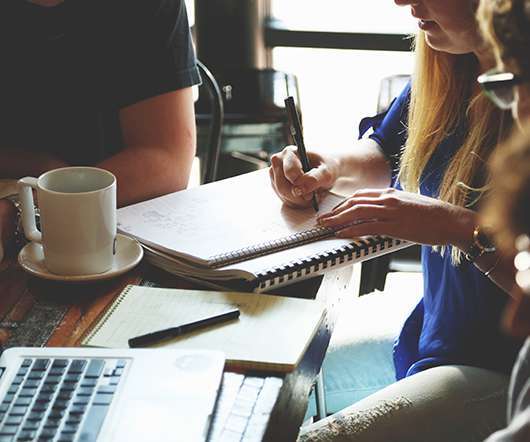 Social Media Policy?
Clark Quinn
JULY 1, 2015
So what's your social media policy?  It's not something you should do lightly, or haphazardly, it seems to me. Other social media tools I use for specific things include Yammer, Skype, and of course dedicated tools like Google Docs of various sorts, Doodle, and more. This is my social media learning strategy. socialIn fact, such a policy really is part of your personal knowledge mastery. Let's do this by platform. Facebook, is for me, the place I be me. Clark Quinn, not Quinnovation. right). They get the appropriate treatment.
eLearning Content And Social Media
eLearning Brothers
NOVEMBER 5, 2015
You want your eLearners to stay with you much more than 8 seconds and be engaged by your social media marketing (SMM) content. From a content marketing professional's perspective, every eLearning platform should populate more than one if not all major social media platforms. As you jump hurdles and overcome issues in your social media deliveries, update your plan.
Social media for engagement #jiscinform
Dont Waste Your Time
APRIL 10, 2014
Whilst reading the excellent JISC Inform newsletter (I've not paid this enough attention in the past – I will from now on!) I read the article on 'social media for engagement' Go read it now! "The role of social media has the potential to extend beyond learning and teaching to support student engagement in the broadest sense. " .
7 Reasons Social Media Boosts Social Learning
TOPYX LMS
FEBRUARY 2, 2016
There are good reasons why companies should use Facebook as a means of promoting social learning. Too many business owners don't take advantage of this free social media network out of fear that employees will abuse their social media privileges. As a result, entire companies miss out on all of Facebook's social learning benefits. Jeffrey A. topyx.com.
Seven Simple Secrets to Off-the-Shelf Course Success
Advertisement
take the same training at the same time also benefit from the social nature of this learning. Secret 4: Socialize the Learning with Others. Social learning can increase engagement, stimulate discussion, and establish credibility in. This all sounds great, but what is social learning and is it reliant on Facebook. Seven Simple Secrets to. Off-the-Shelf Course Success.
Course
The honeycomb of social media
Origin Learning
MARCH 30, 2016
Once you are into the honeycomb of social media, it is an entwined relationship as hundreds of avenues open up. Social Learning Social Media Can learning be Perceptive honeycomb of social media perceptive predictive progressive Social media functionality user generated content
Social Media in Academia
Dont Waste Your Time
JUNE 8, 2013
Announced this week, the ETNA (Enhanced Training Needs Analysis) 2012 survey has found that "nearly three quarters of academics in further education agree that social media tools enhance the quality of the learning experience." However, the survey also identifies a strong need for staff training in the use of social media." Social Media Policy.
Social Media for Research!
ZaidLearn
MARCH 14, 2013
Here is the publication (slides) in advance: Social Media for Research! My key points in one slide: Welcome to the world of social media, where we can publish anytime we want ! Social_Media Facebook web2.0 Venue: International Medical University (IMU), Kuala Lumpur SLIDES Why wait? Isn't that cool! Can't wait for that mission cool! KEY POINTS?
Whitepaper: When The LMS Isn't Enough
Advertisement
elements including a game-like interface or learning games, leaderboards, prizes and incentives, team activities and social elements. Social media channels that foster collaboration and a sense of teamwork. When the LMS isn't Enough How to Turbocharge Your LMS and Improve. Learning Retention for Bottom Line Results W H I T E P A P E R 2Table of Contents. Turbocharge your LMS.6
Learner