Social
Related Topics
Social Learning Online: It's Possible
Association eLearning
OCTOBER 26, 2016
A major complaint among those who prefer Instructor led training (ILT) to eLearning is that eLearning is not social. They claim the lack of social interaction, both with the instructor and other learners, limits the effectiveness of the training. Social Learning in an LMS. The goal of social learning is to get learners involved with the content and engaging with their peers.
Social learning expert panel #emoocs2015 #social
Ignatia Webs
MAY 20, 2015
What do you feel is social learning? Social learning: what becomes better when more people take part: more diverse views, more perspectives => conversations. Social learning moves beyond learners and teachers, it is about participating in a course in such a way that you yourself learn, but also you yourself share what you know. What is missing in social learning?
7 Reasons Social Media Boosts Social Learning
TOPYX LMS
FEBRUARY 2, 2016
There are good reasons why companies should use Facebook as a means of promoting social learning. Too many business owners don't take advantage of this free social media network out of fear that employees will abuse their social media privileges. As a result, entire companies miss out on all of Facebook's social learning benefits. hours on the site each month. Jeffrey A.
Social Learning is here to stay!
Origin Learning
JULY 8, 2015
Let's dwell for a minute on social learning which has redefined the framework of learning in organizations, big and small! Insanely easy to use , effortless and an expression platform are words that will surely lead you to experiment with the social method of learning. These are now perceived as mature technologies that are centric to social learning.
Transform Your Video Strategy for Enterprise Learning & Communication
Advertisement
4 5 6 7 8 [link] 9 10 11 12 htotp://www.mckinsey.com/industries/social-sector/our-insights/how-to-scale-personalized-learning# 13 14 15 18 [link
Enterprise
Learning by Watching: Social Cognitive Theory and Vicarious Learning
Origin Learning
JANUARY 7, 2015
Rather, we have stated this example to prove a point: that observation is an intrinsic human technique to learn unfamiliar tasks or behaviors – something that has been theorized by the psychologist Albert Bandura as what he called the 'Social Cognitive Theory'. What is Social Cognitive Theory? The Social Cognitive Theory creates an interesting opportunity for observational learning.
12 Characteristics of Social Learning
LearnDash
MARCH 7, 2016
Social learning is being used in organizations of all sizes as it has shown to be quite successful for training and development purposes. Today it has never been easier to incorporate a social learning component into both virtual and live training events. Specifically, using a blended learning approach with social learning components can yield positive results. social learnin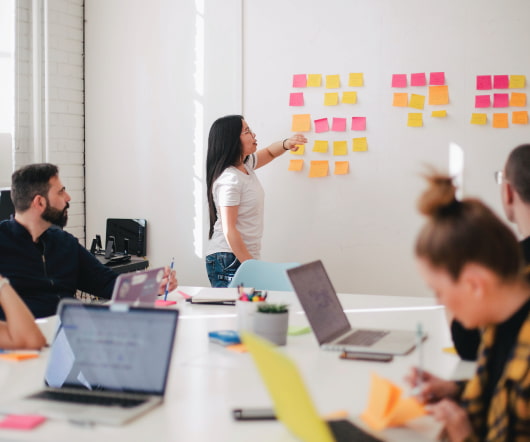 Social Training?
Clark Quinn
FEBRUARY 9, 2016
Sparked by the sight of a post about 'social training', I jokingly asked my ITA colleagues whether they could train me to be social. Jane talks  about being asked "how you make people learn socially", and mentions that you can't force people to be social. There are multiple areas that can be addressed, but it's not to  make people learn socially. social strategyAnd, of course, they've posted about it. And it made me think a little bit more too. That's the point, you can't  make people engage.
#LearningIs social
Learning with e's
MAY 4, 2016
Humans are inherently social. Most of our learning is achieved within social contexts. Even when we are on our own, much of our learning through resources such as books and videos is mediated socially - there is another mind behind the resource. There are many social theories that explain our membership of 'tribes' or communities. We want to be accepted by others.
Seven Simple Secrets to Off-the-Shelf Course Success
Advertisement
take the same training at the same time also benefit from the social nature of this learning. Secret 4: Socialize the Learning with Others. Social learning can increase engagement, stimulate discussion, and establish credibility in. This all sounds great, but what is social learning and is it reliant on Facebook. Seven Simple Secrets to. Off-the-Shelf Course Success.
Course