Social
Related Topics
Social Learning Online: It's Possible
Association eLearning
OCTOBER 26, 2016
A major complaint among those who prefer Instructor led training (ILT) to eLearning is that eLearning is not social. They claim the lack of social interaction, both with the instructor and other learners, limits the effectiveness of the training. Social Learning in an LMS. The goal of social learning is to get learners involved with the content and engaging with their peers.
Social learning expert panel #emoocs2015 #social
Ignatia Webs
MAY 20, 2015
What do you feel is social learning? Social learning: what becomes better when more people take part: more diverse views, more perspectives => conversations. Social learning moves beyond learners and teachers, it is about participating in a course in such a way that you yourself learn, but also you yourself share what you know. What is missing in social learning?
Social Learning is here to stay!
Origin Learning
JULY 8, 2015
Let's dwell for a minute on social learning which has redefined the framework of learning in organizations, big and small! Insanely easy to use , effortless and an expression platform are words that will surely lead you to experiment with the social method of learning. These are now perceived as mature technologies that are centric to social learning.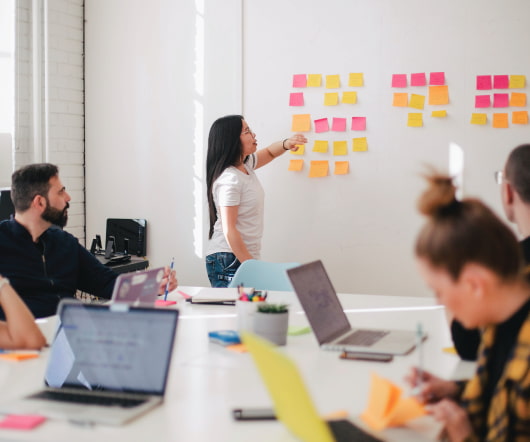 Socially Acceptable
Clark Quinn
MARCH 30, 2016
I was talking with my ITA colleagues, and we were discussing the state of awareness of social learning. And we were somewhat concerned that at least from some evidence, there're some misconceptions around about social learning. There are number of  reasons to be interested in social learning: it's more natural : our learning mechanisms were social before they were formal. This is only a start, but I reckon if those don't make the case that you should be taking a serious look at incorporating social business into your organization.
Seven Simple Secrets to Off-the-Shelf Course Success
Advertisement
take the same training at the same time also benefit from the social nature of this learning. Secret 4: Socialize the Learning with Others. Social learning can increase engagement, stimulate discussion, and establish credibility in. This all sounds great, but what is social learning and is it reliant on Facebook. Seven Simple Secrets to. Off-the-Shelf Course Success.
Help