Corporate Learning
Related Topics
5 Ways To Make Corporate Learning More Effective
Social Learning
NOVEMBER 1, 2013
While admitting to the dentist that I often intended to floss, but rarely carried out my intention, she said: […] The post 5 Ways To Make Corporate Learning More Effective appeared first on Social Learning Blog. Learning Retention Performance Improvement corporate learning learning spatial repetition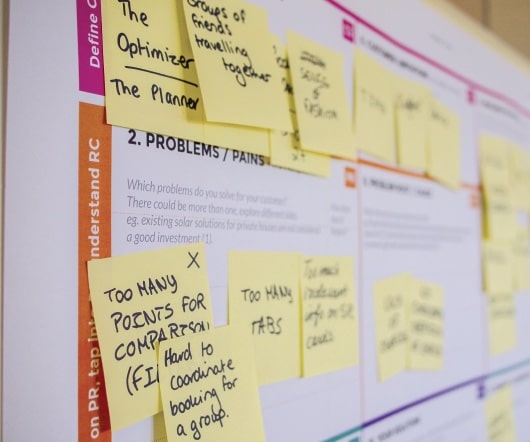 Equal Opportunity Corporate Learning
KnowledgeStar
MARCH 18, 2015
"Push learning" is clearly not suited for today's "economy of ideas" -- yet corporations have been surprisingly reluctant to make the necessary change. The reason may well lie in the fact that a "pull" learning culture is truly democratic. Continuous Learning Corporate Learning corporate training Education Equal opportunity future of learning Learning Learning and Development Learning Blogs Learning Culture continuous learning corporate culture Corporate learning Corporate Training croyism discrimination elitism racism sexism
Corporate Learning Insights and Trends from TrainingIndustry.com
JPL Learning
MAY 18, 2015
At the conference, we conducted a number of interviews with industry leaders from leading corporations to share over the coming weeks on the JPL Learning Solutions video blog. TrainingIndustry.com is a well-known source of information about the business of corporate learning. and one of the leading authorities on trends in learning and development.
Mitigating the Risks of BYOD in corporate learning
G-Cube
APRIL 29, 2014
The solution is to not ban the policy of BYOD but put up measures to ensure the security of corporate data – across the multiple devices that the employee uses to access the data. BYOD as a trend is also affecting corporate learning, as more and more learners opt to learn on their own devices, as per their schedules or pertinent needs. contact-form-7].
Training Consumed in 60 Seconds: Microlearning Is Made For Today's Growing Teams
Advertisement
In order to drive outcomes, learning. Each bite-sized learning moment is where the rest of the. To learn more, check out. Play #1: Decide Your Learning Objective. The process of learning complex skills in small, focused steps. learning moments to transform individuals and organizations. The principle of learning new skills a little bit at a time is nothing.
Teams