eLearning Tools
PowerPoint
Related Topics
Free PowerPoint Templates for eLearning
eLearning Brothers
FEBRUARY 19, 2015
Today we are giving away four PowerPoint Templates and a few other goodies for your eLearning. The best part of these eLearning Templates is they are free. These PowerPoint Templates can be used in all your standard eLearning authoring tools (iSpring, Snap, Articulate Presenter, and Adobe Presenter). Free PowerPoint Templates. Page Layout Templates.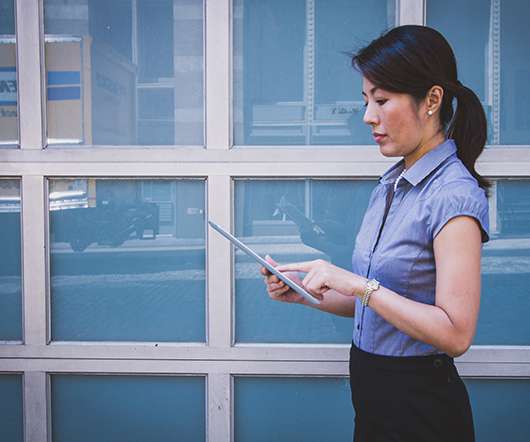 PowerPoint: Create an Infographic
I Came, I Saw, I Learned
SEPTEMBER 29, 2012
by AJ George  If you need to create an Infographic, there are better programs than PowerPoint that you could use. That being said, PowerPoint is likely on your office computer right now. Additionally, PowerPoint is often underutilized as a design platform and is surprisingly agile. In PowerPoint, choose  File > Save As.   eLearning PowerPoint
PowerPoint or Prezi: Which is Best for eLearning?
Association eLearning
NOVEMBER 4, 2014
The question is becoming more and more common — "Should I use PowerPoint (PPT) or Prezi?" But whereas PowerPoint tends to progress linearly from one slide to the next in a fixed sequence, Prezi uses "paths" to move between content by zooming out to reveal a big-picture overview, or zooming in to show details. So when could Prezi shine as an eLearning tool?
How to Create eLearning Using PowerPoint
Association eLearning
APRIL 24, 2014
Having a solid foundation in PowerPoint is a must when using rapid content authoring tools to create online learning. Many rapid content authoring tools are either based on or an add-on to PowerPoint (PPT), including: Adobe Captivate,  Articulate Presenter, iSpring Presenter, Articulate Presenter, Articulate Storyline, as well as Digitec's own Direct-to-WEB. Don't.
The Art of Instructional Designing – PowerPoint Courses and Beyond
Raptivity
MARCH 10, 2016
As an Instructional Designer, you may be asked to create a new educational course from scratch based on the curriculum or create an eLearning course based on PowerPoint being used for Instructor Led Trainings. However instructional designers need not limit themselves to just dumping the PowerPoint content into an eLearning or online format as part of their course creation.
eLearning: Articulate Storyline and Microsoft PowerPoint
I Came, I Saw, I Learned
SEPTEMBER 9, 2014
by Kevin Siegel      If Microsoft PowerPoint is your starting point for developing eLearning content, you can reuse that content in any of the top eLearning development tools including  Adobe Presenter ,  Adobe Captivate , and  TechSmith Camtasia Studio. You can select all of the PowerPoint slides or pick and choose.
4 Cool Things You Can Do with PowerPoint Map Graphics
eLearning Brothers
JUNE 24, 2015
In eLearning, a good map graphic can go a long way towards explaining geographic and location-based concepts. Our pre-made PowerPoint graphics are a handy tool in this area, as each element of the map can be manipulated to suit your needs. Here are a few interesting things that can be done with our PowerPoint map graphic templates: Paths and Processes. Callouts.
PowerPoint: Free Proportional Comparison Diagram Calculation Tool
I Came, I Saw, I Learned
FEBRUARY 27, 2014
by AJ Walther    While browsing  Dave Paradi's PowerPoint Blog  recently, I found how easy it is to create a Proportional Comparison Diagram (allowing viewers to compare numbers using shapes that are sized proportionally). No worries, Dave has developed a tool to do the dirty work for you. Don't worry about the sizes, you'll handle that next.
Making PowerPoint Interactive
Raptivity
JUNE 5, 2013
Making PowerPoint interactive is to make your slides do what you want, allowing yourselves to go from slide to slide almost like going from one room to another in your home – and setting your slides in a way that [.]. Education Software eLearning eLearning Software eLearning tools Free webinar interactive learning mLearning PowerPoint rapid learning raptivity