Authoring Tools
Photography
Stock
Related Topics
Be a Stock Photography Model!
Everything E-Learning
JUNE 18, 2014
We've written a lot about the importance of choosing the right images for your e-Learning projects and suggested some sources for economically priced stock photography. But what if you don't want to spend hours searching for the perfect stock photo, or you just can't find one that demonstrates your industry? Then it's time to start taking your OWN stock photos! Lighting.
Free Stock Photos Sites for e-Learning
eFront
OCTOBER 24, 2010
News from the e-learning frontier Pages Home About Community Free e-Learning Resources Contribute to the e-Learning Community 10/24/2010 Free Stock Photos Sites for e-Learning As an e-Learning developer I had to invest a lot of time to find images for my e-Learning projects. I am sure that the most of us work with tight budgets and limited resources. Stock images are in the public domain.
e-Learning What Not to Do… BuzzFeed Style!
Everything E-Learning
OCTOBER 14, 2014
logged into Lectora® Online (my favorite cloud-based authoring tool that lets me develop on my beloved Macbook) and whipped up some examples of what NOT to do! 1. Cheesy Stock Photos. Uh oh—I think someone forgot to read our " Be a Stock Photography Model! Camera shy but need stock photo resources? appeared first on e-Learning Software and Authoring Tools.
The Halo Effect: First Impressions for e-Learning
Everything E-Learning
JANUARY 14, 2015
Take your own stock photos: Be a Stock Photography Model! Authoring Tool – This one's for you! Use an authoring tool that's powerful enough to help you create an amazing e-Learning course—from first impression to the final quiz question. Try a free 30 day trial of Lectora® Online, the newest version of this powerful cloud authoring tool.
The Wisdom of Crowds - E-Learning Guild's Annual Gathering 2009 (Part 2 of 3)
Learning on the Leading Edge
MARCH 17, 2009
Wednesday's keynote featured Jeff Howe , Contributing Editor at Wired Magazine and author of the book, Crowdsourcing. " Alternatively, he sometimes defines it as applying opensource principles to fields other than software development. Howe covered several examples of how companies have used the internet to crowdsource a given task, the first of which was photography.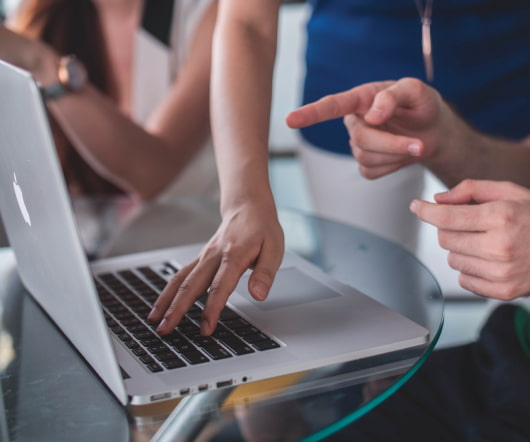 100 Conversation Topics
Tony Karrer
DECEMBER 8, 2008
Here's the eLearning Authoring Tool we chose to use and approach we used to evaluate and decide. Here are the surprises we found after we chose our eLearning Authoring Tool. Here's my eLearning Authoring Method or Trick. Topics 1, 2, 3 for LMS , LCMS , Audio , Virtual Classroom Tool , Screencast , Wiki , eLearning Game Tool , etc. plan for adopting social media as a learning tool in our organization. Where we have adopted social media as a learning tool in our organization. Which desktop search tool I use and why.