Authoring
eLearning
Methods
Related Topics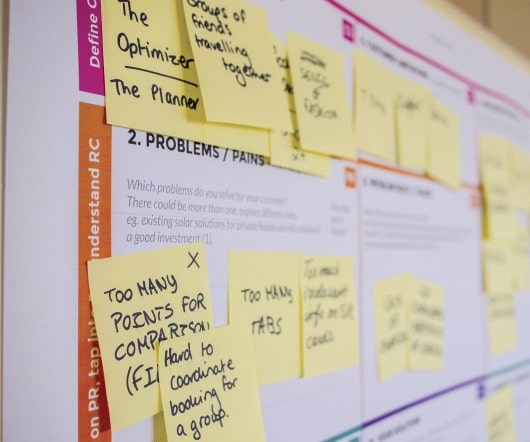 Expectations From eLearning Authoring Tools
Upside Learning
JUNE 30, 2010
I came across this mind map by Cammy Bean which covers nearly all the tools available for creating/authoring eLearning content. The mind map can help learning professionals choose the right authoring tool for  their requirements and expectations. I've been  wandering around the web to find the right authoring tool for  specific use cases. When do I use it? SCORM 1.2,
Webinar Digest: Benefits of Cloud Authoring
Web Courseworks
OCTOBER 5, 2016
Last week was our first webinar of our Fall eLearning Thought Leader Series. Web Courseworks CEO, Dr. Jon Aleckson, and Dr. Paul Schneider, VP of Business Development at dominKnow, discussed the Benefits of Cloud Authoring. New industry and government standards, along with changing business needs, have created the environment for more collaboration in the course authoring process.
Using Rapid Authoring Tools to Design eLearning Courses for Multiple Devices
Bottom-Line Performance
APRIL 9, 2013
Our eLearning Challenges blog series explores the common situations our clients face when deploying learning solutions. Let's face it: the primary delivery tool for eLearning is still usually a desktop or laptop computer. This was our approach: Use Articulate (a rapid authoring tool) to decrease development time and cost. eLearning Design Considerations for iPad.
The Best Learning Design Method is the One You Use
Mindflash
JULY 31, 2013
Designing eLearning courses is a challenge, and the challenge just begins with the "e" in eLearning. It is a daunting task for an experienced learning designer, much less someone new to the field who has been asked to create an eLearning course for the first time. recommend learning about this method, especially if you work in an agile and collaborative culture.
Free eLearning software (Easygenerator) for teachers as of today!
Challenge to Learn
JULY 24, 2015
Get easygenerator (eLearning software) now for free. There is none, we give you are eLearning authoring software and you will create cool things with it. Easygenerator is an online eLearning authoring tool. No charge for you as an author, or for your students. You can do that by replacing the lecture with an instruction video or eLearning course.
eLearning Conferences 2013
Tony Karrer
NOVEMBER 13, 2012
Past years eLearning Conferences 2012 , eLearning Conferences 2011 , eLearning Conferences 2010 , eLearning Conferences 2009. link] December 6-7, 2012 mLearning : Making Learning Mobile, offered by the eLearning Guild, online. link] January 24-25, 2013 eLearning Software : Productivity Tips and Secrets, organized by the eLearning Guild, offered online.
The Future Of Higher Ed And Its Impact On Elearning
Upside Learning
FEBRUARY 16, 2012
It gave me a lot of insights about the state of higher education globally and also left me thinking about how these developments would impact the global elearning industry. certainly believe that it is vital for all developers of elearning to understand these trends and adapt to the new paradigms of learning. How do these developments affect the elearning industry? Mobile Apps.
14 Essential eLearning Templates
eLearningArt
FEBRUARY 24, 2016
When I develop eLearning courses, there are many common elements that I use over and over. Tom Kuhlmann had an interesting analogy of an eLearning course being like a sandwich  with the top and bottom slices of bread being the welcome and exit screens, respectively, and then a lot of course content in-between. You don't always have to display objectives in your eLearning courses.
7 Things About eLearning Your CEO/Executive Director Wants to Know
Association eLearning
SEPTEMBER 3, 2015
As an Education Director, you see the writing on the wall, and have decided that eLearning is the answer your association's needs. But wait…How will you explain eLearning to your Executive Director? It'd save time and resources, and you could standardize training, but how do you explain eLearning to the CEO? Don't show up unprepared. Will we need an LMS?