Activities
Information
Related Topics
Active Training Series
Web Courseworks
SEPTEMBER 3, 2015
Dr. Andy Hicken and I are contributing authors in  101 Ways to Make Learning Active Beyond the Classroom , a new e-learning book by my friend and colleague, Elaine Biech. The book's front half lists 200 tips for "making training active and learning successful." Active Training. The post Active Training Series appeared first on Web Courseworks. 10 Tips.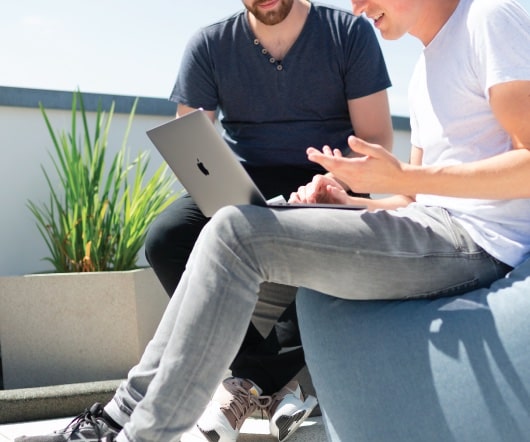 Active and Passive Learning in Organizations
The Peformance Improvement
APRIL 13, 2012
Employees are asked to read, watch, or listen to information being dispensed. Another approach is to make the learner an active creator of knowledge and skills. Internal job aids  (to support use of systems, processes and activities). Coaching Organizational Learning Training active learning Jane Hart learning organizational learning
Active learning spaces
Learning with e's
APRIL 8, 2013
The boundaries of informal and formal spaces have blurred significantly, as have the boundaries between the real and the virtual. It is also important that learning is made to be active and engaging. All of these aspects of learning are active. It is not hard to see how such an artificial transition from active to passive can stifle creativity and demotivate learners.
Translating Activities Into the Virtual Classroom
ATD Learning Technologies
OCTOBER 26, 2016
Often moving classroom activities for a virtual classroom is less about creating the actual content, and more about mapping out and creating the learner journey. Whatever you call it, it should provide a high-level outline of what the course will contain, the topics to be covered, expected learning outcomes, activities you will use, and learning modalities. Case studies. Quizzes.
Seven Simple Secrets to Off-the-Shelf Course Success
Advertisement
activity to 50 new hires, 2) Promote and support new managers to lead teams, 3) Improve. For example, to support objective 1— standardize and ramp up hiring activity to 50 new hires – you might use courses such as. Performance support is the extra bits of information or reminders that extend the training. Seven Simple Secrets to. Off-the-Shelf Course Success. capital. You're.
Course
Disruptive activism
Learning with e's
JANUARY 2, 2011
But just what is disruptive activism? The multiple affordance of digital media to be able to see instant results, record, delete, share and edit images on the move, and the ability to extract a great deal of information about camera source, geographical location and other useful information, are all attractions the conventional camera cannot compete with. Unported License.
3 Essential Activities for New Hire Success – Even if You Don't Have Formal Onboarding
Pract.us
SEPTEMBER 27, 2016
Bonus activities. After a couple weeks, ask your new employee how the onboarding process is going, and use that information to make improvements going forward. Onboarding is key – even if you don't do onboarding. According to a recent article by Human Resource Executive Online , only 48% of companies offer onboarding for new employees. Ignore onboarding at your own risk.
Drill and Practice Activities for Your eLearning Courses
eFront
JULY 28, 2016
If there is one single factor that can be blamed in this otherwise blemish-free eLearning course, it is the reinforcement activities. What are Reinforcement Activities? Reinforcement activities are practice activities that give learners the chance to apply the information, knowledge, and skills they have learned from the course. Drill and Practice Activity Types.
Informal Learning
CourseArc
MAY 26, 2016
While formal training plays a tremendous role in improving learners' competencies, most real learning occurs on the job through informal knowledge sharing, coaching, and direct observations. Thus, informal learning is now becoming an indispensable part of a blended learning solution. So, how can eLearning professionals include informal learning in their training curriculum?
Move Beyond Learning to Applying: A Modern Management Development Program
Advertisement
information to application and use cases, we focus the training experience and not. their activities to systematically generate those. activities". in a list of activities You will work through a. activities, as well as content-delivery. activities, as well as. guide participants through activities that go. activities. We now. rate content.
Learner