News
Report
Related Topics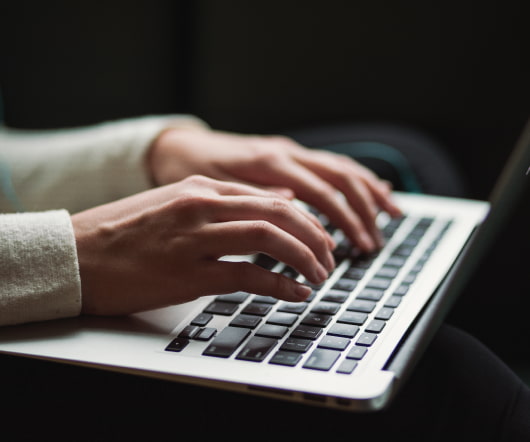 The Extended LMS – The John Leh Report
Web Courseworks
NOVEMBER 9, 2015
Talented Learning  is a news, research and consulting organization dedicated to the advancement of all aspects of extended enterprise learning technology solutions. John is planning to be putting out his first learning management system report. He explains the LMS report in this next clip. An official title has not yet been decided on for the LMS report but John says his team is working on it. The post The Extended LMS – The John Leh Report appeared first on Web Courseworks. He is the CEO and Lead Analyst at Talented Learning, LLC. link]. link]. link].
Calculating the ROI on E-Learning: ROI Report
CDSM
AUGUST 21, 2015
The great news is that we can provide the ROI figures you're looking for, and they're certain to knock the socks off your board members. In our downloadable, printable ROI Report , you'll see the benefits of using e-learning over more traditional training methods, including: The direct savings. To benefit (as many others have) from our ROI Report, download it for free now.
The Horizon Report 2014 – Your reviews
Dont Waste Your Time
FEBRUARY 6, 2014
You can access and download the full NMC Horizon Report for Higher Education, 2014, here. " YouTube: The NMC Horizon Report :: 2014 Higher Education Edition. This year I'm not going to read the report. Inge Ignatia de Ward: NMC horizon #report 2014 on #education in #HighEd. " Faculty Focus: 2014 Horizon Report Identifies Top Ed Tech Trends, Challenges.
Top 5 eLearning Trends Happening Now
Association eLearning
MARCH 17, 2016
I recently attended the Training 2016 Conference and Expo as an exhibitor. I was able to talk with many training and development representatives from a wide variety of organizations about their LMS needs. During these discussions I asked, "what aspects or features are you looking for in an LMS? What excites you?" These top 5 features are gaining popularity in 2016 and beyond. Gamification.
New research explores the common myths and realities around the 70:20:10 learning model
Advertisement
Report. Benchmark report (Page 79), Embracing Change (free to download at. This report has been developed and co-written with Charles Jennings of the. Look out for his photo dotted throughout this report, for his exclusive. This report is free to download thanks to the. Download and share this report at: www.towardsmaturity.org/in-focus/2016/702010. Docebo.
Blended Learning